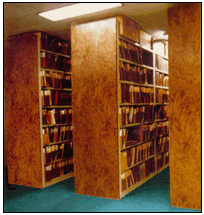 We are a manufacturer of Nut & Bolt Type Shelving . We offer superior quality material and workmanship. Because of our high standards, we have supplied shelving to other manufacturer that they sell as their own! We have been in the manufacturing and installation business for over 50 years .
All of RTI Employees have experience in the designing, manufacturing and installation of our products! We can also supply many other types of shelving including: Wire, Wide Span, Cantilever, Case Type and Pallet Racks.
Our Standard shelves are 18 gauge, Class 1 (Furniture Quality) cold rolled steel, triple flanged on all 4 sides. Posts are 1.25" to 1.25" Mill rolled rail steel 1/8" (.125" thick), round (mill) edged, and not sheared. Our backs and sides are 22 gauge and are 1 piece up to 99".
All products are made in the USA, RTI offers many service options, including but not limited to: installation, service and repairs of "Non-RTI" shelving and mobile systems. Meeting your trucks at jobsites, offloading and installation of your product.
We can also receive your product at out location, which is conveniently located in Greenpoint, Brooklyn (within 5 miles of midtown Manhattan, and centrally located to most major truck routes), Offload, sort and stage for delivery at a later date.
RTI is fully affiliated with all local union trades.
The difference between our competitors and us is that all our installers work directly for RTI. We do not "shop out " your job to sub-contractors. This is why we can offer you delivery and installation 7 Days a week at a competitive price! If you need more information feel free to call.
RTI operates with a very basic premise: storage systems are our business, and the acquisition of your storage system is only realized once, it becomes our obligation to provide the best materials, planning, coordination, delivery and installation that over 50 years of experience can offer. Our uniquely trained staff of representatives and designers, along with our manufacturing, delivery, and installation crews, fulfill this obligation. If a project is only to be completed once, let RTI Shelving Systems guarantee that it's done right.